AC Maintenance Encino, Tarzana, Anaheim, Sherman Oaks, CA and the Surrounding Areas
Californian heat is impossible to survive without a fully functioning air conditioner. As we head into the hot summer, call the best AC maintenance Encino, and get your AC tuned for the upcoming heatwave!
Air Wave Technologies, Inc is the perfect partner for all your air conditioning requirements.
Who Are We?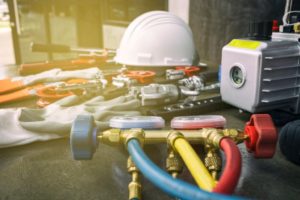 Air Wave Technologies, Inc is a team of professional HVAC technicians. We're certified by the Environment Protection Agency (EPA) and the Refrigeration Service Engineer Society (RSES) for providing safe, long-lasting, and environment-friendly service to all our clients. Currently, we provide HVAC services in Ventura, Los Angeles, Orange County, San Bernardino, and Riverside counties.
We've become one of the most popular services for AC maintenance Encino because of our reliability. We provide excellent service that ensures you don't have any problems with your air conditioner, heater, or any other HVAC unit in the near future.
Want To Look At Our Other Services?
Other than maintenance, we provide a wide range of air conditioning services in . this includes:
We also provide installation, maintenance, replacement, and tune-up services for all heating and cooling units. So whether you have a mini-split or a central air, we're the solution. Want to book AC maintenance?
What Makes Us Popular?
There are five reasons why our AC maintenance in Encino is preferred:
High-Quality Work: If you're looking for services that last long and are still affordable, we're the best choice. We use name-brand products that go through extensive verification and inspection. Once they pass these tests, only then are they installed in your home. We also use the best quality to ensure you get the best results.
Maintenance Plans: We provide excellent air conditioning maintenance plans. This means you can easily select and customize a plan according to your requirement. This comes with regular inspections and tune-ups. You only need to pay for any repairs! We'll keep your HVAC unit on schedule!
The Best Team: How can you use good products without a good team? Our team of professionals has all completed HVAC certifications. They've also completed extensive training programs and apprenticeships. We have hands-on knowledge about all HVAC units used in California and can solve any problem you come across.
Many Verticals: Our services can be hired by just about anyone. Whether you live in a multi-family unit or an apartment, whether you own a commercial building or a residential one – we can help you. We have experience in solving issues with all types of construction – new and old. So, worry no more. You have the best contractor.
Online Scheduling: Now, you can skip the lengthy process of calling and scheduling services. You can visit our website anytime, on any day, and book the service of your choice. We'll call to confirm your requirements and our technician will be present on time.
You only need to add your name, contact information, and a brief description of the problem you're facing. Call us on (818)-340-0012 today.